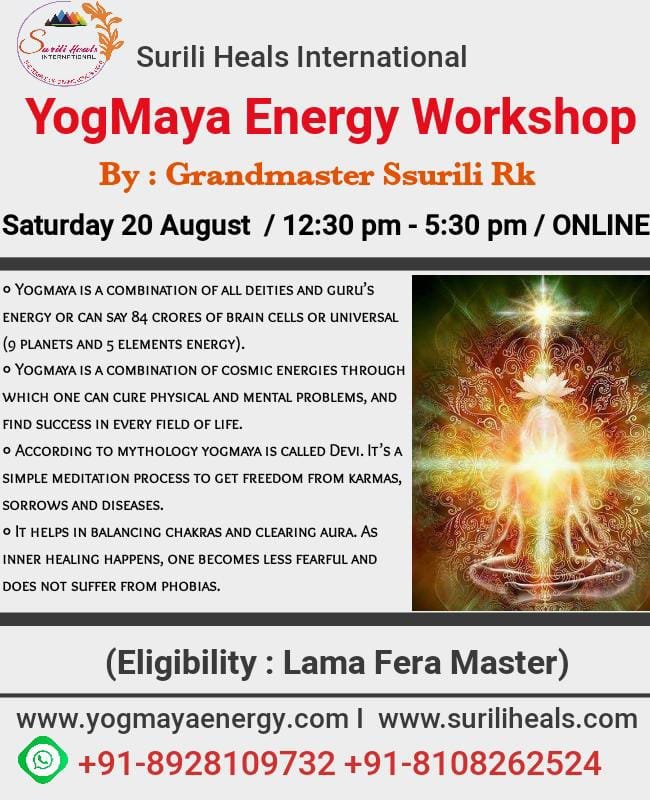 20 August 2022: Yogmaya Workshop (Online)
YOGMAYA Workshop (Online)
(with Lama Fera Grandmaster – Ssurili Rk)
Yogmaya is a combination of all deities and guru's energy or can say 84 crores of brain cells or universal (9 planets and 5 elements energy). Some yogis and practitioners of Yogmaya put it as natural energy or cosmic power that can be acquired through practice.
According to mythology Yogmaya is called Devi. It's a very simple meditation process to heal past karmas or get freedom from karmas, sorrows and diseases. It is a high frequency gaining process to gain success in spiritualism and astral science powers.
Yogmaya is a combination of cosmic energies through which we can cure physical and mental problems, and find success in every field of life. Yogmaya helps us overcome our weak qualities like suspicion, self-doubt, anger, sorrow. It makes you control your frustration. It helps us in balancing our chakras and clearing the auras which in return heals any disease process within us.  Not only this, as inner healing happens, you become less fearful and do not suffer from phobias. Yogmaya is advanced process of lama fera which requires deep meditation.
Yogmaya Workshop will include :

*Theory & Practical

*Learning 75 symbols and explanation of techniques

*Yogmaya invocation, connection and meditation

*Diksha or Personal Initiation of Divine Yogmaya Energy

*Connecting you to your personal Divine Symbols

*Manual

*Certificate

*Guided Siddhikaran/Shuddhikaran – Self Cleansing and Self Healing process
Note: Completing Lama Fera Level 1 and Level 2 is a pre-requisite for learning Yogmaya
* Please send your enquiries and booking request to contactsurili@suriliheals.com or whatsapp us on +91-8928109732, 8108262524